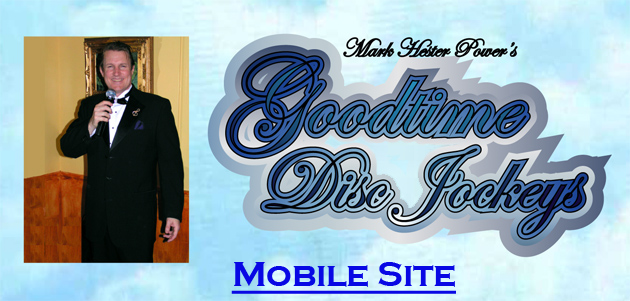 28th Year in the Sonoma County - Over 6000 Weddings, Parties & Events
All Styles & Eras of Music - You Choose - The Ultimate CD & mp3 Music Library
Santa Rosa
..........................call for your best price

(707) 762-0863

About I Music Lists I Wedding Philosophy I Karaoke I Equipment I Lights I Prices

Make your event a goodtime with The Goodtime Disc Jockeys

Have you used our service if so please take our satisfaction survey here.
We are fun, entertaining, entertainers, either center stage or in the background
we have Musicians, Disc Jockeys, MC's, Master of Ceremonies
Goodtime DJs in Santa Rosa CA. Thanks for stopping by!!!
Site content, photos or text are property of goodtimedj.com. Duplication is not permitted without permission.
NOTE: Goodtime Disc Jockeys is NOT associated with any similar website.
Santa Rosa Zip Codes: 95401 95409 95405 95404 95402 95403 95406 95407 95408
Santa Rosa DJs - Music - Wedding Photography & Video - Serving Sonoma County CA - Santa Rosa Reception Sites, Santa Rosa Wedding DJ. Disc Jockey , Santa Rosa D.J., DJ, in Santa Rosa Disk Jockey
Goodtime Disc Jockeys Wedding DJ Wedding Disc Jockey Wedding Photography, Wedding Video, Music Videos, School Dances, Karaoke, Sound System Rentals, Weddi
ng Music - Bar & Bat Mitzvahs,
Birthdays, Corporate Parties, Holiday Parties, Anniversaries, Wedding Planning - Calif. Northern California CA



Santa Rosa Professional Disc Jockeys DJ And MCs, Disk Jockey, DJ, Photography & DVD Videography Servies for Weddings, Parties, Dances & Events. Serving Northern California since 1978, 35,000+ songs on Compact Disc, High Quality State of the Art Sound Systems, Karaoke Rentals, DJ's Serving the Entire Greater Bay Area, CA. Reception Stites, Including Napa Co. Reception Halls, Sonoma Reception Halls, Napa Reception Sites, Napa Valley, Bay Area, North Bay DJ, in Petaluma Disc Jockey, Cotati Disc Jockeys, Healdsburg, Windsor, Rohnert Park, Glen Elen, Vacaville, Fairfield, Calistoga, St. Helena, Rutherford, Vineyards, Yountville, Calif.
We have Master Of Ceremonies, MC's, DVD Music Videos, Karaoke, Sound System Rentals, Karaoke Rentals, Singer, Vocalist Mark Hester Power, Disc Jockeys, Need a Disc Jockey, Wedding Consultant. DJ. We do Parties, Wedding Receptions, Events, Reunions, Dances, Corporate Holiday, Xmas, Company Christmas Parties
We Have Music Videos, Video projector, Serving The Bride & Groom, Brides, Weddings, Birthdays, Corporate Events, Bar Mitzvah, Bat Mitzvah Anniversary,
Anniversaries, Corporate Events, Holiday Parties, Birthday, Birthdays, Weddings in California, California Wedding DJ's
Party and Get Dancing with our Music. Call Owner, Singer, DJ Mark Hester Power for a Dj, Mobile Disc Jockey,Photographer, Photo,
Video, Videographer, Wedding music consultation Band or Musician. Disc Jockeys - Dee Jay - DeeJay - Santa Rosa D.J.
Available music includes: Ballroom, Big Band, Blues, Classical, Club, Country, Dance, Disco, Funk, Hip-Hop, House, Jazz, Latin, Merengue,
Motown, Oldies, Pop, Rhythm and Blues, Reggae, Rock, R&B, Salsa, Soul, Swing, Techno, Trance Top-40, 40's, 50's, 60's, 70's, 80's, 90's 2000's
Serving the entire North Bay Area, CA. Marin, Sonoma, Napa, Napa Valley, North Bay, Petaluma DJ, Cotati, Healdsburg, Windsor, Rohnert Park, Novato DJ, Calistoga, St. Helena, Rutherford, Vineyards, Pt. Reyes, West Marin, Benicia, Yountville, Calif. Northern California, wine country, n. California Brides, dances and partiers with Disc Jockeys Musicians, Etc. We also offer karaoke DJs, corporate and private party entertainment by California DJs, wedding disc jockeys in Santa Rosa, CA. We are an independant company, not an agency, so you'll receive a professional local DJ with quality equipment, excellent service and diversified music libraries. .Music & Entertainment for your company dinner party college frat party, holiday party or corporate Christmas party.